Schools have taken on the role of family in some cases and the teaching of values has often been lacking. A sad reality, Christian values and the fear of God have been quickly disappearing. Basic manners, disrespect, and basic morals in the Bible are deemed too "fundamentalist" by the media. 
Teaching Christian values and beliefs is vital to how children will grow up treating one another. In trying times, we call upon the faithful to fulfill the duty of passing on Christian values to youngsters so that they have the chance to develop spiritually.
Here are some Christian values every child should know.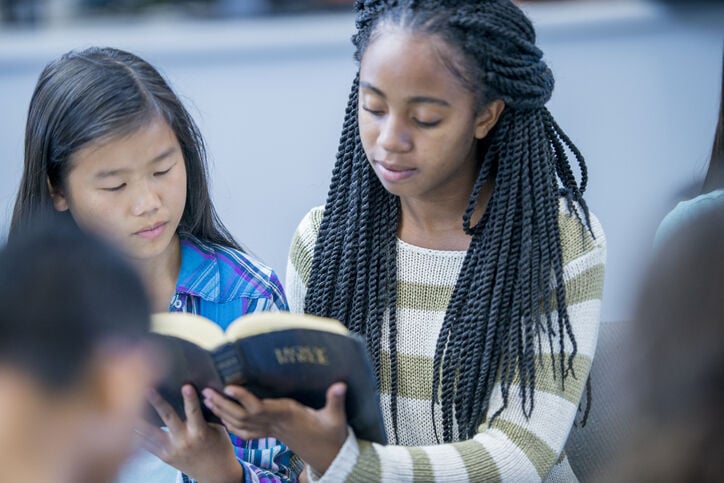 Image by

Getty
God First
"But seek first his kingdom and his righteousness, and all these things will be given to you as well." — Matthew 6:33
At the core of Christian values is God. He must be continually sought out and we should be seeking His righteousness and completely rely on him. We have the ability to choose what is right and wrong, but when we put God first, He will show us the way. God knows best.
Compassion
"As each has received a gift, use it to serve one another, as good stewards of God's varied grace:" — 1 Peter 4:10
Regularly practicing compassion in front of children is the best way to teach them. Leading by example. By getting your children involved in compassion projects like missions, feeding the needy, and serving in evangelism programs, you will be able to lead them down a path of compassion and Godliness.
Integrity
"To do what is right and just is more acceptable to the LORD than sacrifice." — Proverbs 21:3
Remind children that even though people cannot see their deeds, God is watching. He will reward those who show integrity. The Bible is filled with examples of moral purity, integrity, and character. Honesty, honor, and trustworthiness are at the core of having integrity.
Love
"But love your enemies, do good to them, and lend to them without expecting to get anything back. Then your reward will be great, and you will be children of the Most High, because he is kind to the ungrateful and wicked." — Luke 6:35
God's love to us, and love, in general, is a core Christian value. His favor and grace towards us help mankind follow the path to salvation. Teaching children to seek out the goodness in others will help them develop this important Christian value.